The Alien Online released this news story about the Titan Publishing Group's plans for a Galactica companion book and official magazine. Here are some tidbits to spark your interest, visit thealienonline.net for the full story:


Battlestar Galactica: The Official Companion will be published in June 2005, and will feature exclusive interviews, insider secrets, a complete episode guide to the mini-series and first season of the television series, and a 16-page colour photo supplement.

According to Titan Books Editor, Adam Newell: "There is no more popular television show at the moment than Battlestar Galactica. Even fans of the 1970s original are converts to the new series. Our companion guide will fill a welcome void for these fans as they eagerly await the second season."

And in addition, Titan Magazines, the largest and most experienced publisher of licensed entertainment magazines in the US, UK, Australia and New Zealand, has added the Official Battlestar Galactica Magazine to its portfolio. This bi-monthly, 68-page guide will offer an extensive selection of cast and crew interviews and on set reports, photos and more.
More information on Titan's publications at
titanmagazines.com
.
I guess it's time to subscribe and start lobbying for stories about Helo and interviews with Tahmoh!

(The magazine image above is an alternate cover of the miniseries mag currently available for purchase (see below). I'm not sure if it was ever on newstands... does anyone know? No covers have been released for the new official series mag as far as I know.)
----------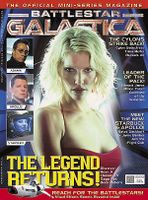 If, like me, you only saw the miniseries after you started watching the show, then you probably never had the chance to see or buy the
Official Mini-series Magazine
from 2003.
UPDATE (4-12-05): Contrary to what the website implies, the miniseries magazine is no longer available.